​Crystal Healing Auckland and NZ Wide
Crystal Healing also known as Crystal Therapy has become increasingly popular in NZ over the years for the many benefits that this has to offer. By harnessing the natural healing qualities of crystals, we can offer positive results for the mind, body and spirit. At Divine Connection, we offer both
– Remote or Distance Crystal Healing New Zealand Wide
– In Person Crystal Healing Auckland New Zealand .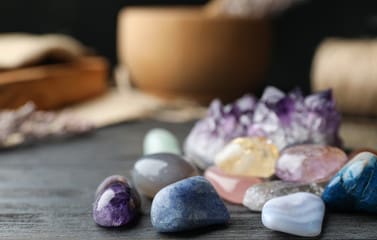 Clear negative energy by having crystals placed on specific parts of your body. Enjoy the relaxing yet energizing experience that crystal healing has to offer. Choose from Distance Crystal Healing from the comfort of your own space at home or anywhere! Or our relaxing safe secure space in Auckland New Zealand.
Crystal Healing With Divine Connection
What Can I Expect From a Crystal Healing Session?
In an in-person crystal healing session, you will lie down on a comfortable therapy bed. The crystal healer uses a pendulum to decipher where the negative energy is emanating from your body. Specific crystals are then chosen to cleanse and purify any blockages or negative energy. You may find that the entire process is very calming and peaceful. At the end of the session, there is an opportunity for you to ask questions and talk about your experience.
How does Crystal Healing work?
Crystal healing works on a physical, emotional, mental and spiritual level. Crystals support your own healing ability and make use of vibrational healing that is all to do with energies. Holistic therapy is used to assess the client as a whole, without simply just looking at the symptoms.
What Are Some of the Benefits of Crystal Healing?
Clearing blockages in Auras and Chakras
Increasing the flow of positive energy
Stimulates healing processes
Uplifting mood
More energy
Stress reduction
Clearer mind
Why Divine Connection for Crystal Healing?
Divine Connection offers a wide variety of reading and healing services that are holistic in nature and aim to set you on the right path. Our crystal healer, Angelene, has been practicing crystal healing for many years and has a long list of satisfied clients.
Finding Balance & Peace in Life
Here are some of the ways a psychic reading or healing session with Psychic Angelene (Angie) from Divine Connection may help:
Love & Romance
Family concerns and disputes
Career and job
Business, investment and property
Health and wellness
Money problems or disputes
Are you feeling stressed?
Past Life Readings
Connect to you Spiritual guides and Angels Now
Psychic Readings to enrich and enliven your life
Addiction problems
Past childhood trauma, sexual abuse, PTSD, and mental health support
Do you feel called to spirituality, but aren't sure how to start your personal spiritual journey?
Feeling lost and confused…